The Rosette Nebula
Constellation Monoceros, RA 06h 33m Dec +04 59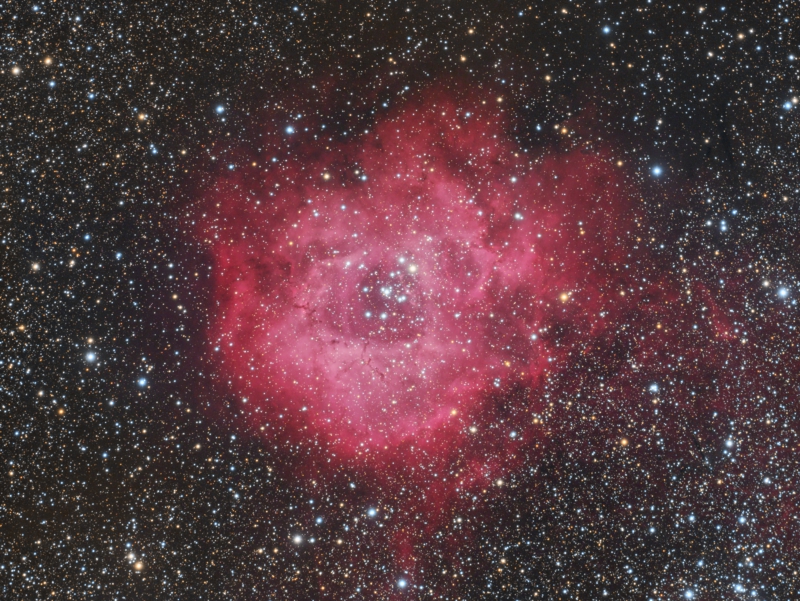 About this object
The Rosette nebula in the constellation Monoceros is an area of hydrogen emission surrounding a star cluster NGC 2244, located near the center of the nebula.
This image was taken with a 70mm refractor and QSI 583 camera with Astrodon 36mm LRGB filters along with a 36mm Astrodon 5nm Ha filter.
The narrow band data was combined with the LRGB data in PS CC using spectral mapping.
Image Details
Optics

:

Stellarvue

SV 70T triplet refractor

Mount:

Paramount MYT

Camera:

QSI 583

Filters:

Astrodon 36mm LRGB+5nm Ha

Exposure:

HaLRGB

:

140:100:120:110

Camera/Mount Control:

The Sky X, CCD Auto Pilot 5

Guiding: Unguided using ProTrack

Processing: PixInsight 1.8, Photoshop CC

Location:

Stark Bayou Observatory, Ocean Springs, MS

Date:

28Feb-1Mar 2016